When Neil Baker's wife Michelle looked out the kitchen window at breakfast earlier this year, she spotted something unusual towards the riverside apartments on the family farm in northern New South Wales.
Not quite able to make out what it was, she took out a pair of binoculars to get a closer look. What she saw was horrible. "He was a wild dog, feasting on a ram we had," said Baker, a Tweed Valley beef and pork farmer who also raises sheep.
The attack was one of dozens carried out by dogs and foxes on Baker's property and neighboring farms in recent years.
"They're big wild dogs," Baker said. "They are wild enough to prey on livestock. The fact that they are now seen in the light of day shows how cheeky they have become.
Local Land Services, a government agency that helps landowners eradicate wildlife, said wet weather this year has led to a sharp rise in pest numbers. So far this year, the agency has culled 22,377 animals through aerial shooting operations, including more than 19,581 pigs. Last year, he slaughtered a total of 33,569 animals.
NSW Farmers said its members were also reporting an increase in the number of feral pigs, dogs and cats. Feral dogs include feral dogs, dingoes, and their hybrids. Deer were also encroaching on new territories.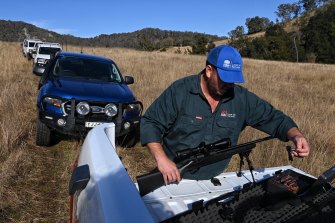 Brewarrina farmer Gerard Glover, who chairs the NSW Farmers Western Division Council, said he was prepared for an increase in the number of feral pigs and foxes on his land when the wetter weather ended, and they were forced further to feed.
"The numbers are piling up. When it starts to dry out a bit…the numbers are definitely there."